Celebrate Accomplishments with All Time Awards' High-Quality Custom Plaques
Custom plaques are a great way to recognize and honor achievements, commemorate special events, and promote your brand. At All Time Awards, we specialize in crafting high-quality plaques that are perfect for schools, corporate offices, and special events. Here are some of the ways that our plaques can help you celebrate and promote success.
Recognize Achievement with Custom School Plaques
At All Time Awards, we believe that every student deserves to be recognized for their hard work and achievements. That's why we offer a wide variety of custom school plaques to celebrate academic, athletic, and leadership accomplishments. Our plaques are crafted from the finest materials, including solid wood, brass, and marble, and can be customized to feature your school's logo, colors, and unique design. Whether you need awards for academic achievement, perfect attendance, or athletic excellence, All Time Awards has the perfect plaque for you.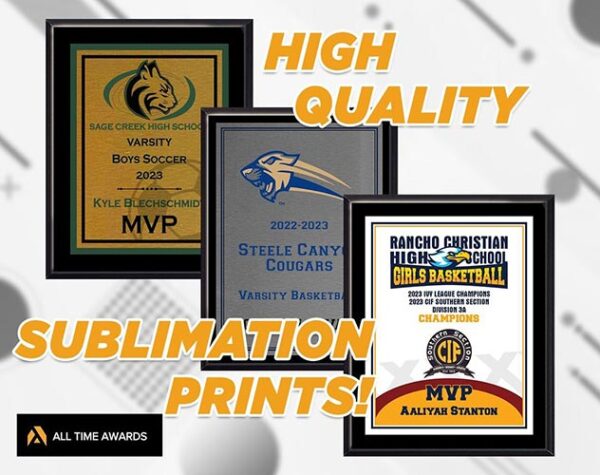 Promote Your Brand with Corporate Plaques
Custom plaques are also a great way to promote your brand and recognize the hard work of your employees. At All Time Awards, we offer a wide range of corporate plaques that can be customized with your company logo, mission statement, and other branding elements. These plaques are perfect for recognizing outstanding sales performance, long-term service, and other achievements. Plus, our plaques are made from high-quality materials and are designed to last, ensuring that they will be a treasured keepsake for years to come.
Commemorate Special Events with Custom Plaques
Custom plaques are also a great way to commemorate special events and milestones, such as retirements, anniversaries, and grand openings. At All Time Awards, we provide a variety of custom event plaques that can be designed to feature your event's logo, date, and other important details. Our plaques can be made from a variety of materials, including wood, glass, and metal, and can be customized to match your event's theme and style. These plaques are perfect for honoring special guests, thanking sponsors, and commemorating a successful event.
Experience the All Time Awards Difference
At All Time Awards, we take pride in providing our customers with high-quality, custom plaques that are crafted with care and attention to detail. Our skilled craftsmen use the latest technology and techniques to create plaques that are both beautiful and functional, ensuring that your recipients will be proud to display them. Plus, our fast turnaround time and excellent customer service ensure that you will be completely satisfied with your order. So why wait? Contact us today to learn more about how All Time Awards can help you recognize achievement, promote your brand, and commemorate special events with custom plaques that will last a lifetime.