Celebrating Excellence through Exceptional Trophies and Awards
In the exhilarating world of sports, achievements deserve to be cherished and celebrated. From record-breaking performances to championship victories, athletes and teams pour their heart and soul into their craft. At All Time Awards, we understand the importance of recognizing and honoring these exceptional accomplishments. As a leading supplier of high-quality trophies and awards, we take pride in crafting exquisite pieces that symbolize the pinnacle of sporting success.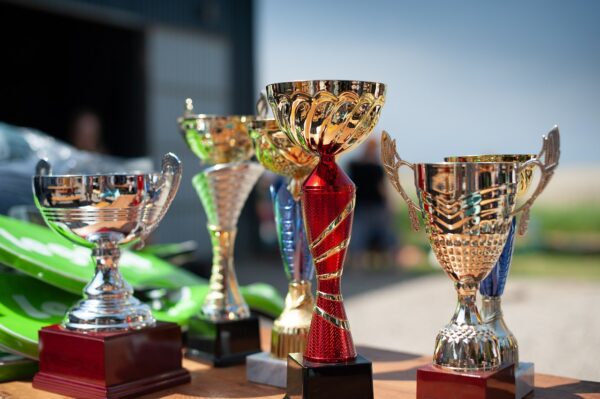 A Diverse Range of Sporting Awards:
All Time Awards offers a diverse collection of trophies and awards, meticulously designed to capture the spirit of each sport and commemorate outstanding achievements. Our extensive range includes:
Championship Trophies: The ultimate symbol of triumph, our championship trophies are crafted with precision and elegance. These trophies are designed to reflect the essence of the sport and serve as a tangible reminder of the team or individual's remarkable journey to victory.
MVP Awards: Recognizing exceptional individual performances, our MVP awards are meticulously crafted to represent excellence, leadership, and extraordinary talent. These awards encapsulate the dedication and skill displayed by athletes who have truly stood out among their peers.
Coach and Mentor Awards: We believe in acknowledging the critical role played by coaches and mentors in nurturing talent and shaping successful athletes. Our coach and mentor awards are designed to honor the guidance, wisdom, and inspiration imparted by these dedicated individuals.
Hall of Fame Plaques: Paying homage to the legends of the sporting world, our Hall of Fame plaques serve as timeless tributes to individuals who have left an indelible mark on their sport. These plaques commemorate extraordinary careers and contributions to the sporting realm.
Special Recognition Awards: At All Time Awards, we understand that there are moments and achievements that deserve unique recognition. Whether it's a milestone accomplishment, a record-breaking performance, or a humanitarian endeavor, our special recognition awards are tailor-made to celebrate these exceptional feats.
Craftsmanship and Quality:
All Time Awards takes immense pride in the quality and craftsmanship of our trophies and awards. We understand that these pieces will hold significant value for the recipients, and as such, we strive for excellence in every detail. Our experienced team employs state-of-the-art techniques and premium materials to create stunning and enduring trophies that embody the spirit of sportsmanship and achievement.
Customization and Personalization:
We recognize that every sport and every achievement is unique. To ensure that our trophies and awards perfectly represent these exceptional moments, All Time Awards offers a range of customization and personalization options. From engraved plaques to personalized inscriptions, we work closely with our clients to create bespoke pieces that truly capture the essence of the achievement being honored.
All Time Awards is dedicated to elevating sporting achievements through the provision of exquisite trophies and awards. We understand the importance of commemorating excellence and celebrating the hard work, talent, and dedication displayed by athletes, teams, coaches, and mentors. With our diverse range of sporting awards, meticulous craftsmanship, and commitment to customization, All Time Awards stands ready to help you honor the exceptional moments and individuals that define the world of sports. Trust us to create enduring mementos that truly embody the spirit of triumph and inspire future generations to strive for greatness.