Same-Day Orders
We are very excited to announce a groundbreaking service exclusively for San Diego residents. Same-day orders for standard acrylic, glass and crystal awards. This game-changing service will shift the way organizations, businesses, schools and individuals celebrate achievements and special occasions. Instead of waiting weeks for an award to come in, All Time Awards same-day orders service makes it possible to celebrate that same day.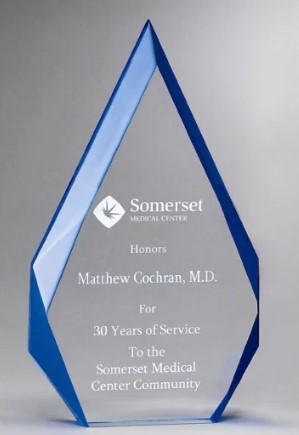 Our standard acrylic, glass and crystal are an excellent choice for honoring achievements. Here are a few reasons why:
Elegance
Our standard acrylic, glass and crystal awards are very elegant awards that are sure to capture the attention of everyone. They are very sleek looking and reflect light beautifully.
Durability
Our standard acrylic, glass and crystal awards are sure to last a very long time. Acrylic is resistant to dents, scratches and fading. Glass and Crystal awards have strong surfaces and are also resistant to scratches and other wear and tear.
Great Displays
Our standard acrylic, glass and crystal awards are also great as display pieces in your home or office desk. They are visually appealing to anyone due to its sleek and elegant look. Having it on display also acts as a constant reminder of the recipient's hard work and dedication fostering pride and motivation to keep striving for more.
Appropriate For Any Occasion
No matter the type of celebration, whether it's a corporate celebration, school celebration, service milestone, or a personal special occasion, they are perfect for every occasion. If you're unsure what type of award to get, be sure that with an acrylic, glass or crystal award, you will not go wrong.
Conclusion
All Time Awards is proud to be able to offer this service to the San Diego community. We are certain that this game-changing initiative will help elevate the way recognition and celebrations are done.
If you're interested in elevating your recognition program efforts, make sure to make your same-day order purchase from All Time Awards! If you have any questions please feel free to give us a call at (858)277-4165 or email us at info@alltimeawards.com